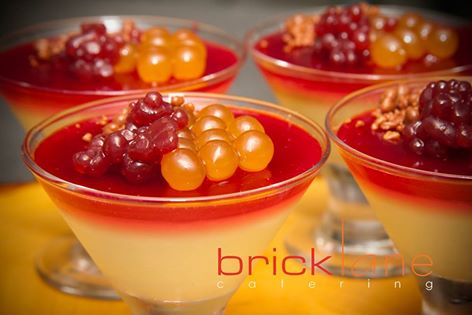 Brick Lane Catering is always honored to be featured alongside of the other wonderful vendors on Borrowed & Blue.  Cibi Events sure knocked it out of the park with the amazing design of Anna & Anthony's Charleston wedding at Hibernian Hall.  With the vibrant fuchsia and purples tones, the Hall was transformed into what one might describe as a high end dance club.  When a bride and groom are ready to step outside of the box with a design and idea that isn't "normal", Brick Lane Catering can't wait to jump aboard.
What was Served:
The menu was a mix of Southern staples along with a few unique items.  Guests were greeted at Hibernian Hall with four Passed Items for the first hour.  One of the passed was the Brick Lane version of Pigs in a Blanket: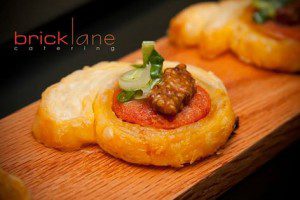 After cocktail hour, guests sat down for a served first course of a menu item that is quickly becoming a hugely popular item, especially in the summer.  When guests see this listed on the menu, they are always pleasantly surprised with what they are actually served.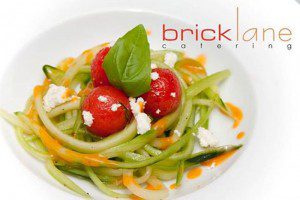 "Spaghetti and Meat Balls"
Local Cucumber "Noodles", Watermelon, Feta Cheese, African Blue Basil,
Smoked Heirloom Tomato Vinaigrette
When guests finished the first course, we opened up Chef Attended Small Plate Stations so that guests got a taste of a variety of flavors and felt free to mingle and take their time enjoying dinner.  We ended their catering experience with a beautiful dessert display with three different desserts options.  Look at this dessert that fit in just perfect with their color scheme: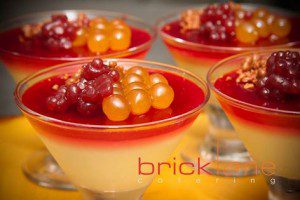 Check out the rest of the menu:
Dana Cubbage Weddings captured it all and now all the wonderful vendors are featured on Borrowed & Blue.  Take a look!