What is a wedding without Passed Hors d'oeuvres during the cocktail hour?  Brides want their guest to have a bite while they take photos and before dinner starts.  Here are a few things to keep in mind when picking these items out:
Season
-Brick Lane Catering loves to use seasonal ingredients fresh from our local farmers whenever we can.  Ask your caterer what is in season locally and how you can incorporate it in your Passed Hors d'oeuvres.
-You also want to keep the temperature of the season in mind as well.  You want to provide a possible variety of cold, warm, and ambient temperature items.  If it is a warmer month, you definitely want to stay away from a hot soup.  However, that doesn't mean a soup shooter can't be included.  There are some wonderful cold soups like a traditional Gazpacho or some of our personal favorites;
Fresh Peach Shooters
Curried Yogurt, Crisp Prosciutto, Chives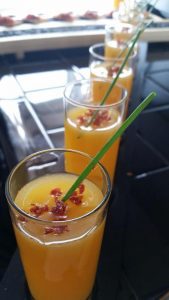 Chilled Cantaloupe Soup
Crisp Prosciutto, Balsamic "Caviar"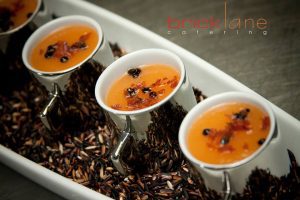 Chilled Yellow Tomato Bisque
Balsamic "Caviar", Basil Oil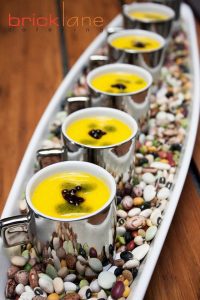 Dinner Menu
-Maybe there were a few items you didn't include in your dinner menu because we were hesitant as to if all your guests would enjoy them.  We suggest that you use your Passed Hors d'oeuvres as your chance to offer your guests a variety of flavors and/or items you love but were too afraid other guests wouldn't.
Size
-Passed Hors d'oeuvres are meant to be 1-2…maybe 3…bites.  You want your guests to be able to easily eat these items while mingling and holding a drink.  Some items may require more than one bite, and that is ok.  Just make sure they are worth it.  Here is one of our more popular "big" bites:
Buttermilk Fried Oyster Crostini
Edemame Puree, Apple Wood Smoked Bacon, Sweet Indonesian Soy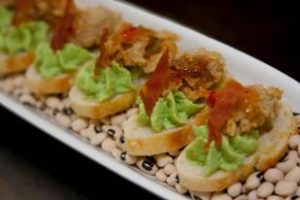 Guest Allergies/Aversions
-It is always good to have a mix of items such as Seafood, Chicken, Beef, Vegetarian, etc.  This way you have a better chance of providing items that the majority of your guests enjoy.  Consider making sure there is one item that is Gluten Free, Vegetarian, Cheese Free, or Shellfish Free.  This obviously will completely depend on your guests.  Remember you know your guests better than your caterer so make sure to make them aware of these allergies/aversions so they can build your menu accordingly.
-Brick Lane Catering suggests never building a menu around a few allergies/aversions.  We can always accommodate these needs as they come up and promise to not let anyone leave hungry.
We look forward to helping guide you through the process of picking the best Passed Hors d'oeuvres for your wedding.  Until then, enjoy a peak at a few of our most popular items:
Open Faced Triple Cream Brie "PBJ"
Buttermilk Biscuit, Blackberry Preserves, Triple Cream Brie-Peanut Brittle Dust, Fresh Strawberry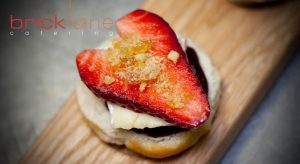 Fried Green Tomato "BLT"
White Cheddar Pimento, Apple Wood Smoked Bacon, Arugula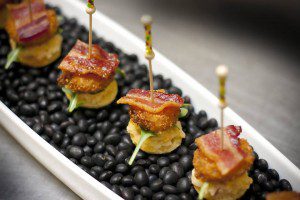 "Chicken and Waffles"
Mini Sweet Waffle Cone, Buttermilk Fried Chicken Breast, Sweet Chili Garlic Sauce, Micro Greens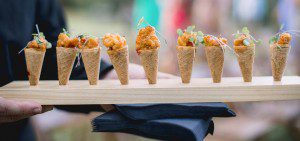 Grilled Shrimp and Chorizo Skewers
Sweet Red Pepper Coulis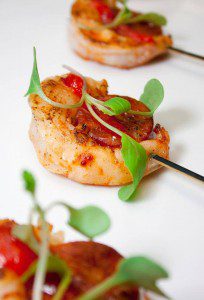 Charleston Lump Crab "Bon Bons"
Boursin Mousse, Chives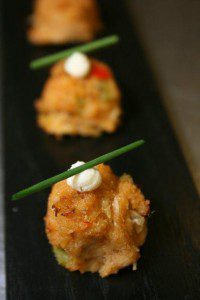 Shrimp and Grit Truffle
Pesto Mayonnaise